Beskrivning
NAVTY P1 – more safety, freedom and driving pleasure.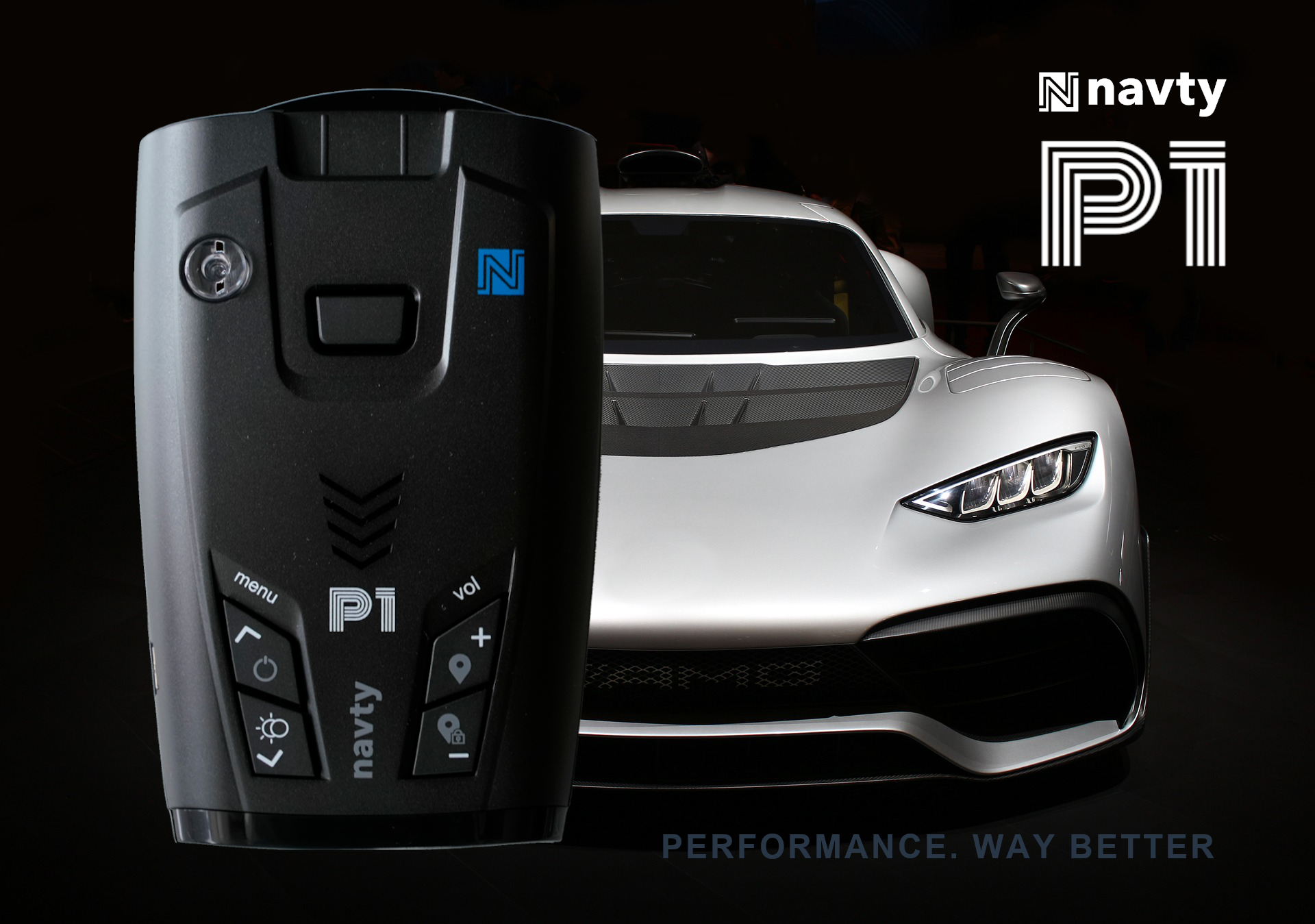 //// 0 – 100 km/h – 2.9s
Performance Measurement – get accurate measurement of your speed and driving performance via GPS. Acceleration measurement (0-100 / 0-200 / 0-300 km/h) takes place at any time and fully automatically. The real measurement data allows you to compare your vehicle data with the factory specifications or with other vehicles.
More protection. Less risk of accidents. Driving licence & fine prevention.
Protect your driving licence and save up to 90% on fines. – with the free P1R firmware, features such as danger spots, POI speed camera warning, 3D Multaradar technology and laser detection can be activated.
Danger points and traffic monitoring – our database informs you about danger points and traffic monitoring such as fixed speed traps / traffic light speed cameras / section control (route section controls) throughout Europe. In addition, you can add and manage your own danger points.
High performance for more safety
Real-time 3D performance radar and laser warning – with the free P1R firmware, the NAVTY P1's radar and laser warning function is also activated. The latest 3D multaradar technology and 360° laser sensors reliably warn of mobile speed traps and laser speed measurements. (segmentable K Band, segmentable KA Band, X Band, Multaradar CD, Multaradar CT, Gatso RT3, Gatso RT4 and Laser).
Beginner mode – Don't know how to use a radar detector? With our recommended settings, you can get your P1 up and running within seconds of copying the P1R firmware via USB stick.
PRO Features – For experts and enthusiasts, the P1 also offers accurate band frequency measurement, as well as display of multiple simultaneous radar readings and selection and finer segmentation of individual radar bands for optimised performance.
Best-in-class intelligent deep filter technology – In addition to the largest radar antenna in its class, the NAVTY P1 radar detector has one of the best filter systems on board, enabling it to reduce false alarms to a minimum. Compared to other reference devices, the NAVTY P1 achieves warning times that are up to 10 times longer than the current multaradar standard. Test it for yourself.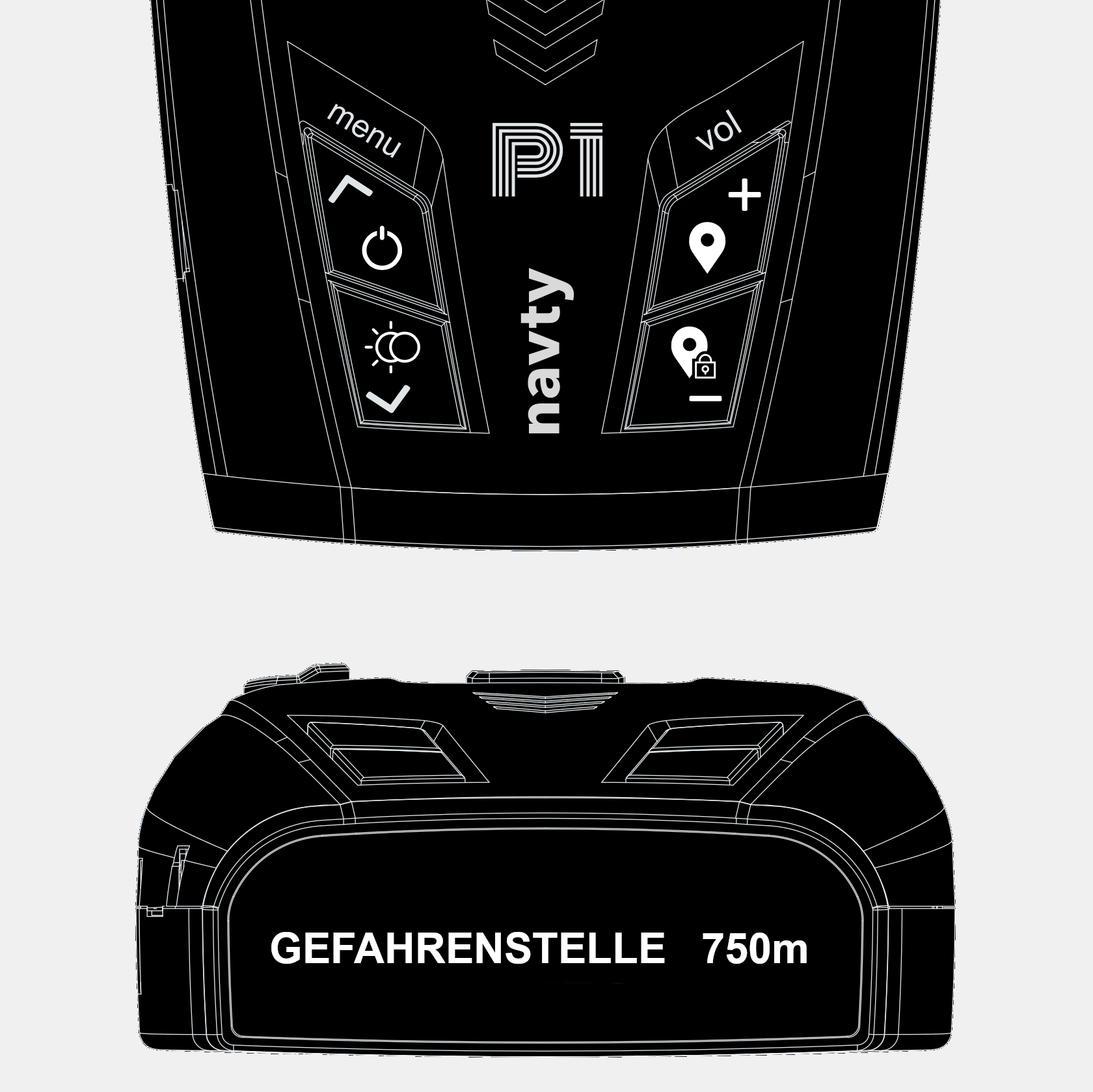 RDD Stealth.
Legal across Europe – in some countries, traffic enforcement warning is not allowed. So that you can use your NAVTY for performance measurement carefree throughout Europe, you can delete the additional P1R firmware at any time with a simple flick of the wrist. In addition, the P1 RDD is safe and therefore cannot be located electronically by RDD, i.e. by means of radar detector location systems.
Future-proof
Lifetime updates included – with the NAVTY motorbike version you get lifetime free access to all our database and firmware updates. The database and firmware update is fully automatic via USB stick and is completed in a few seconds.
Intuitive operation and voice prompts – the language for the menu settings and voice prompts can be selected in German, English, French, Spanish or Italian.
NAVTY Satisfaction Guarantee
.
30 days free trial – we guarantee you'll love your P1! That's why we give every P1 customer an extended 30-day cooling-off period.